Church Façade, Peyruis, France
L'église Saint-Roch dates from the 11th Century, as does the Peter Bowler house across a small plaza from the church. Peter's house was built between the inner and outer walls of Peyruis' Medieval rampart. The author and I lodged there while researching a book on the town of Peyruis, Provence, and it's immediate surrounds.
Watercolor and ink on paper.
Chateau
This chateau on a hill overlooking Peyruis was abandoned when the owner gave his land to the locals after the French Revolution. The building and its walls are deteriorating but some effort has been made to maintain the structure.
Watercolor and ink on paper.
Lamp
Looking toward the kitchen from the living room in Peter Bowler's house in Peyruis, Provence.
Ink wash on paper.
Onions and Sausage
A supper of pasta and salad, gleaned from a nearby market. The table is in the kitchen of the Bowler house.
Oil on board.
Cézanne's Mountain
Mont Sainte-Victoire, east of Aix-en-Provence, appears in over sixty paintings by Paul Cézanne, who kept a residence in Aix.
Oil on board.
Les Pénitentes
Limestone cliffs at Les Mées, near Peyruis, fabled to be monks who were turned to stone for having had the audacity to lust after Saracen women.
Graphite and carbon pencil on rough-toothed paper.
Peyruis at Dusk
View down Rue de la Calade in late afternoon. The nearest wall on the left is that of the Bowler house.
Oil on canvas.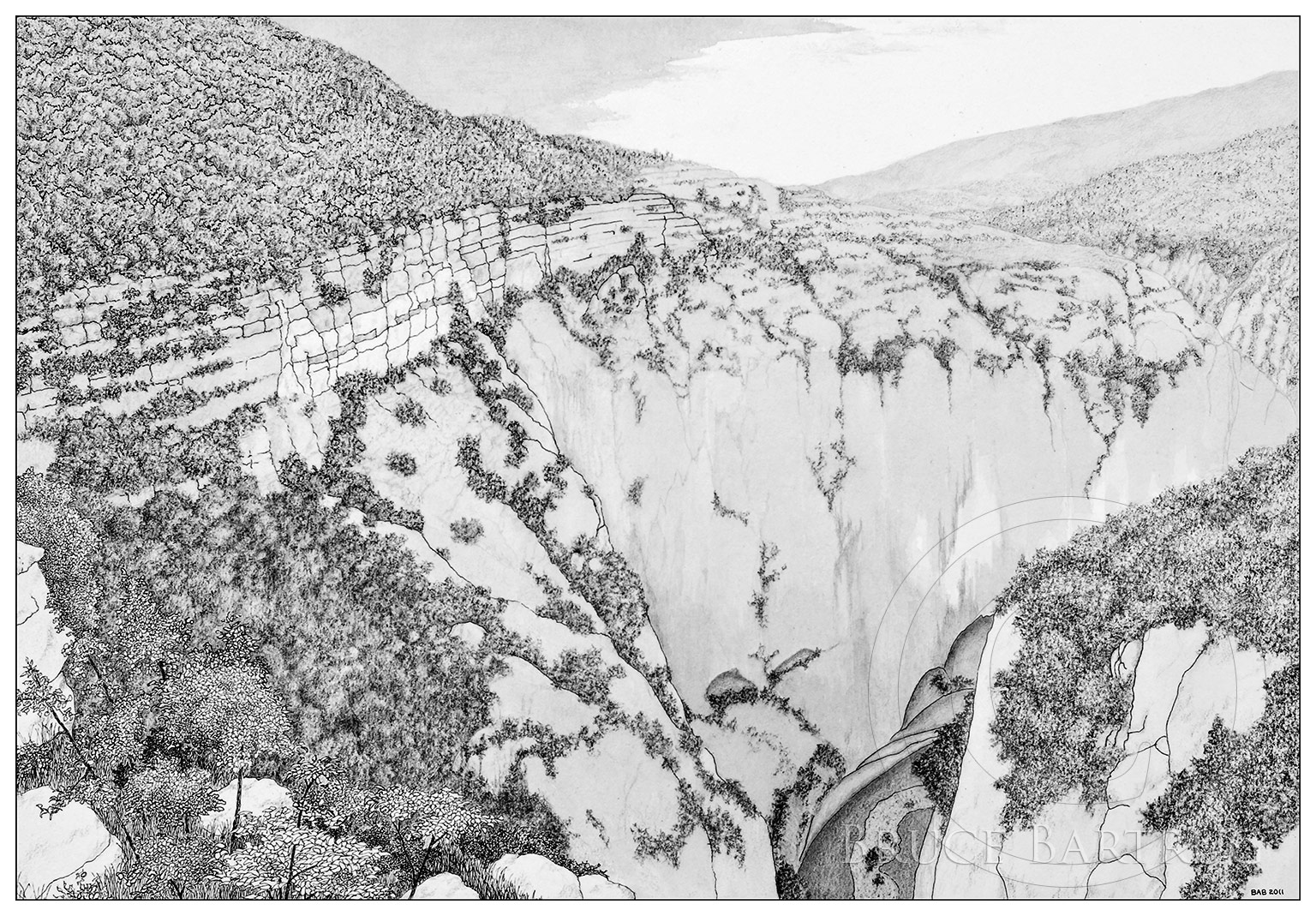 Gorges du Verdon
A picturesque canyon in Provence, carved through limestone mountains by the Verdon River.
Watercolor, graphite, and ink on watercolor paper.
Television
The stairs to the upper bedroom in the Bowler house, Peyruis. The television is a prominent fixture in the author's poem of remembrance for a family member.
Cover
Published by Fountain Mountain Press, 2011.
ISBN 0-9717915-3-8 ; 978-0-9717915-3-4
Front cover illustration, Maritime Alps, Vence, No. 9, by Marsden Hartley,1877 – 1943. Oil on Canvas.
 
Peyruis